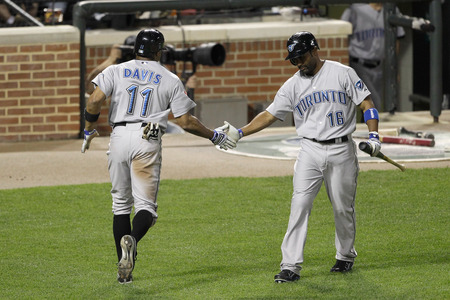 It seems that for several seasons now the Jays have put themselves in the same situation that by the time we reach the all-star break, we as fans are already arguing over what the team should do at the deadline.
This year is no different as the Jays currently sit 10.5 games back of the Yankees for first, four games under five hundred, and ten games back of the Red Sox for the wildcard. While that is certainly not an insurmountable lead with just over half the season played, I think its fair to say that the likelihood of the Jays narrowing that gap over the second half as they approach the July 31st deadline is slim to none.
If we assume that the Jays will once again be cleaning out their lockers come October, as we correctly should - I can't help but thinking its time to start evaluating players on the team that can/could be moved to continue the rebuild. Here is a look at some of the players I think the Jays should consider moving at the deadline and why:
Corey Patterson:
Two weeks ago there was an expectation that either one or both of Patterson and Juan Rivera would be dealt at the deadline for some small slice of value. Given Rivera's designation earlier this week, it's safe to assume that Patterson could very likely be dealt at the deadline - and so he should. Patterson has put together a .258/.292/.392 line over 77 games so far this season. While many seem to think he has had an above average year, given his recent slump his season numbers have fallen in line identically with his career numbers. And his career numbers suggest he isn't worth much.
However if there is something to say about this season for Patterson is that it has been different than usual. When the Jays signed Patterson before the season started, many thought that he would make an acceptable platoon with Rajai Davis given his decent splits against RHP while Davis excels against LHP. However this season, despite the small sample size, Patterson has put up a .306/.342/.444 slash line in 77 at bats with a .787 OPS.
If AA can make the sell that he has had an above average season and he isn't nearly the liability he once was against LHP, there is a chance the Jays can pickup a less than spectacular prospect. The likelihood of this happening should seem fairly unlikely however as he will continue to lose playing time with Snider and Thames up with the Big Club, and Rajai seeming to have found his swing in the last few games.
Rajai Davis:
Now many may disagree with the idea of moving Rajai as he has developed into a fan favourite pretty quickly in Toronto, but I could care less. If the sell can be made to other clubs that his horrible April was a result of his injury, he posted a .295/.339/.730 in May and a .273/.273/.773 so far in July. Sure his June was abysmal, but he has incredible speed which is something contending teams can always utilize.
If he continues to bring up his average as we move towards the deadline, he will certainly add to his team leading 22 stolen bases which should make him seem that much more attractive. Perhaps the most surprising stat or stats when it comes to Rajai his how poor he rates among defensive metrics. While I think many of us have been so relieved to see him chasing down balls in CF compared to our other option in Patterson and their predecessor in Vernon, defensive metrics suggest he is an atrocious defender.
Rajai has posted a -5.4 UZR so far this season, while Patterson has posted a 1.2 UZR rating. Having watched both play all season long I can't help but question those numbers, although I would assume Patterson's numbers are being buoyed by his time spent covering the far easier corner infielder positions.
Aaron Hill:
Speculation has been abundant all season long whether the Jays would move Hill at the deadline given the unlikeliness of the Jays picking up his $8M club option at the end of the season. Given that the Jays just locked Escobar up for a far friendlier $5M a year, anybody should be scratching their head if AA picked up the club option.
While I hate to go all old school scout for a moment, my old baseball heart can't help but wonder about what the hell happened to Aaron Hill. Here is a guy who has been among the leaders for 2b in HR is entire career. He posted a fantastic season 2 years ago following a concussion the previous year that many thought may have ended his career. Last season apart from his 26 home runs was an abysmal year, although his league low batting average for balls in play suggest his numbers should have been significantly better had it not been for some bad luck.
But that brings us to this season and next. Every part of me wants to see Hill bounce back and post a terrific second half that shows signs that last year was just bad luck and that he still is the player that we went crazy for two years ago. But I am afraid at this point that's wishful thinking. Hill's power has evaporated this season - he is posting a career low .341 SLG, a result of only 17 extra base hits so far this season. He is currently on pace to also set career lows in OBP and OPS.
I truly think Hill can become a productive MLB player again in his career, he is after all only 29 years old. While I think the Jays would unquestionably be selling low if they were to move him at this point, I believe there are enough teams that will be willing to take a chance on a guy who has hit 62 HR over the past two seasons and plays one of the most sought after positions on the diamond. Regardless of a surge heading to the deadline, the Jays should look to move Hill as his $8M option should not be picked up.
He is not worth anywhere close to that much at his current performance, and I will hazard to guess that given his disappointment with the club that they didn't pick up his 3 year option prior to the start of the year, the likelihood of him renegotiating a more reasonable contract with the Jays after they decline the remaining club options is next to zero.
Somebody far wiser than me once said that you either have to fish or cut bait.